Apartment "Mar Paraiso"
Get yourself here on a direct flight to Faro and relax! www.algarvesea.com or email direct to
kevinjsaunders54@gmail.com
Ideal for Social Distancing and enjoying the beauty of Fuseta!
In 2023 available to two guests only, except by special arrangement.
Apartment
Beautifully furnished, well-equipped, modern, ground floor apartment situated in the quiet oasis of architecturally stunning Del Mar Village, Fuseta in the Eastern Algarve. Your perfect holiday awaits you!. Del Mar Village has unobstructed views over the ever-changing marshes and the lagoon of the Ria Formosa Natural Marine Park. The expansive private terrace is ideal for dining day or night or just sitting and watching the splendour before you all day long!
The Mar Paraiso apartment is wonderfully situated in the centre of the DelMar property, away from the pool, and in front of the old lifeboat house. As the tide comes and goes, there is never-ending visual enjoyment of the water and, at low tide, of the local shellfish collectors.
The Del Mar property has immaculately maintained private gardens and its own 22m infinity pool (unheated) with decking and sun loungers on the edge of the lagoon.
The apartment is a 5 minute walk from the centre of the old fishing village of Fuseta which offers restaurants, shops and amenities. Fuseta has summer street entertainment, live bands and its own beautiful beach, with nearby cafe at the river's mouth, from where you can watch the boats go to and fro, and the ever changing tides and light over the sands, salt flats, and marshes. And the nearby ferry and private taxi boats take you to your choice beaches, including Ilha da Fuzeta
Ilha da Fuzeta
on the outlying barrier islands, where you can either settle in splendour after a few minutes walk or continue until it feels like you have the whole beach world to yourself.
There are 2 bikes available to you, by prior request before arrival, so you can explore... at your own pace, cycle to market or along the many cycle paths, through the salt marshes, discovering the abundant birdlife in the lagoon - or even to cycle further along the coast towards
Olhao
or
Tavira
on the
Ecovia
do Algarve (returning by train if you find yourself worn out!). Two kayaks can be made available on prior request.
There are numerous small villages nearby, several with weekly markets, where the pace of life is just the pace you want for a relaxing beach holiday. And there are golf courses to indulge your passion for that sport.
To go further afield there is the Fuseta train station (in walking distance) for trains to Lisbon, Faro and along the coast.
Fuseta
Fuseta, dates back to 1572, when it was then referred to as Fozeta, a name that is derived from the diminutive for foz (referring to river mouth); the Rio Tronoco opens into the sea from this location. Initially, the area was just a collection of small shacks used by fishermen to store tools for their fishing boats. Gradually, it developed into a small settlement.
And from this
YouTube video
you can see Del Mar often behind the yellow and red life boat house from the Fuseta beach perspective.
Fuseta is 20 minutes from the port town of Olhao, where explorers left centuries ago for Rio de Janeiro. Olhao is a splendid, architecturally interesting town, with narrow pedestrianised streets and a large covered market, surrounded by cafes, on the waterfront. Equidistant in the other direction is the charming and picturesque town of Tavira. With its castle and many churches, Tavira is steeped in history and is an essential cultural visit whilst in the Algarve. More information can be found here - City of
Tavira
.
If you are staying for a month, then you may want to take an easy day excursion to Seville. After all the Spanish border is nearby and Seville is only 1 hour and 40 minutes away by an easy motorway drive.
Mar Paraiso
at
DelMar Village
in
Fuseta
is an undiscovered jewel waiting for you!
Contact
Kevin Saunders Email:
kevinjsaunders54@gmail.com
Prices
| | |
| --- | --- |
| €1250/week | April, May, June, October |
| €1400/week | July, August, September |
| €2350/month | November - March (weekly price by arrangement) |
These are prices for 2 guests:
On arrival, you will be personally met and shown the apartment.
200 € security deposit by cheque/cash on arrival.
At time of booking, payment is 15% and the balance is due 4 weeks before arrival, in each case by bank transfer. A booking form and rental rules for DelMar will be sent to you by email in advance of your reservation. Cancellation: Your deposit is refundable entirely (except for any bank charges) if you cancel by email received up to 2 weeks before your holiday. There is no refund of any monies paid if cancelled after that time.
Luxury bed linens, towels, beach towels and beach umbrella, are provided for you.
No smoking (including electronic cigarettes, in the apartment and no pets allowed. Please note that DelMar is not a resort, and guests are asked to respect the residential nature of the community.
Check in after 16h and before 21h please. If early arrival, arrangements can be made to store bags. If late arrival, there is an additional charge of 50€. When you request a booking, please advise the number of guests, whether single beds needed for anyone, and the names of all guests.
-Air Conditioning
-Fast fibre Wireless Internet (ideal for working from home)
-TV with worldwide international channels, Netflix and Apple box
-Music System
-Secure Parking
-Taxi collection can be arranged from Faro airport if you do not wish to rent a car
-Gourmet kitchen, equipped for your every need, separated from your main living/dining area
-For stays of more than 1 week, cleaning and change of sheets is included by arrangement
In Portugal, during 2023, we adhere to the following additional principles to better protect ourselves, other residents and, most importantly, YOU! There is a deep clean between guests, a requirement for you to follow the pool rules determined by DelMar Management. Please do NOT to come to Fuseta if you or any guest has symptoms of Covid-19 or has been knowingly exposed to the virus within the previous 14 days (we ask you to inform us if you or any guest in your party develops symptoms within 14 days of leaving). At the end of your stay be sure to leave by 10 in the morning and dispose of everything you have bought or brought into the apartment.
Address
Del Mar Village
Block D, Apart M , Ground floor
Rua Nossa Senhora do Carmo, 77
8700-024 Fuseta
Portugal (Algarve)
Rental license number 35947/AL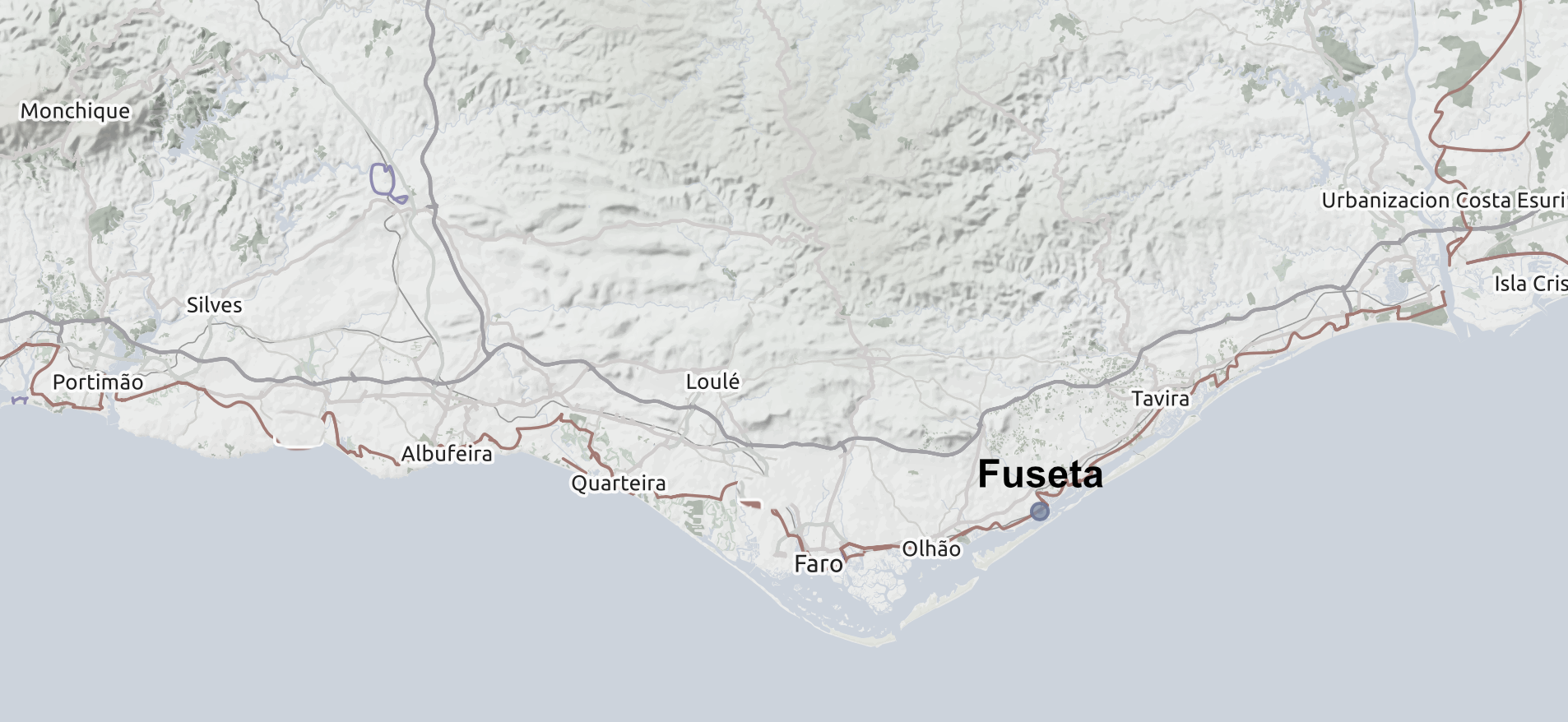 Mei

1

2

3

4

5

6

7

8

9

10

11

12

13

14

15

16

17

18

19

20

21

22

23

24

25

26

27

28

29

30

31
June

1

2

3

4

5

6

7

8

9

10

11

12

13

14

15

16

17

18

19

20

21

22

23

24

25

26

27

28

29

30
July

1

2

3

4

5

6

7

8

9

10

11

12

13

14

15

16

17

18

19

20

21

22

23

24

25

26

27

28

29

30

31
August

1

2

3

4

5

6

7

8

9

10

11

12

13

14

15

16

17

18

19

20

21

22

23

24

25

26

27

28

29

30

31
September

1

2

3

4

5

6

7

8

9

10

11

12

13

14

15

16

17

18

19

20

21

22

23

24

25

26

27

28

29

30
October

1

2

3

4

5

6

7

8

9

10

11

12

13

14

15

16

17

18

19

20

21

22

23

24

25

26

27

28

29

30

31
November

1

2

3

4

5

6

7

8

9

10

11

12

13

14

15

16

17

18

19

20

21

22

23

24

25

26

27

28

29

30
December

1

2

3

4

5

6

7

8

9

10

11

12

13

14

15

16

17

18

19

20

21

22

23

24

25

26

27

28

29

30

31
January

1

2

3

4

5

6

7

8

9

10

11

12

13

14

15

16

17

18

19

20

21

22

23

24

25

26

27

28

29

30

31
February

1

2

3

4

5

6

7

8

9

10

11

12

13

14

15

16

17

18

19

20

21

22

23

24

25

26

27

28

29
March

1

2

3

4

5

6

7

8

9

10

11

12

13

14

15

16

17

18

19

20

21

22

23

24

25

26

27

28

29

30

31
April

1

2

3

4

5

6

7

8

9

10

11

12

13

14

15

16

17

18

19

20

21

22

23

24

25

26

27

28

29

30
Mei

1

2

3

4

5

6

7

8

9

10

11

12

13

14

15

16

17

18

19

20

21

22

23

24

25

26

27

28

29

30

31
June

1

2

3

4

5

6

7

8

9

10

11

12

13

14

15

16

17

18

19

20

21

22

23

24

25

26

27

28

29

30
July

1

2

3

4

5

6

7

8

9

10

11

12

13

14

15

16

17

18

19

20

21

22

23

24

25

26

27

28

29

30

31
Last update : 2023-05-28