FLOR DE SAL - Luxury two bedroom contemporary apartment
Enjoy an unforgettable holiday in the quiet and calm East Algarve. 4 person accommodation: 2 bedrooms, 2 bathrooms, spacious private balcony, amazing sea view, infinity pool, underground parking, elevator, 2 bikes available!
#The apartment
This modern, spacious and bright first floor apartment is located in the new, top class resort of Del Mar Village, Fuseta. Luxuriously finished and contemporary furnishings, the apartment enjoys all modern comforts, such as TV, Wi-Fi, AC. All rooms (including kitchen) are spacious and bright.
Entering in the apartment, you will immediately see a wonderful open plan arrangement.
Very well equipped kitchen with oven, microwave, dishwasher, washing machine, coffee machine, blender, toaster, kettle, …
The living space is well planned and very comfortable.
The two bedrooms, each have a Queen size (160 cm) bed, plenty of storage and a beautiful en suite bathroom. Both are furnished with luxury details, and each has its own identity.
The spacious balcony welcomes you to eat on the large table, to relax in the deckchairs and to enjoy the idyllic view over the private garden, to the tidal lagoons of Ria Formosa, Fuseta Island and the Atlantic Ocean.
There is an underground private parking place accessed by elevator. Ideal for Social Distancing and enjoying the beauty of Fuseta! In 2020 available to two guests only.
There you can also find 2 bikes at your disposal for free!
#The resort
Del Mar Village is a private, high quality, residential condominium located right on the edge of Fuseta village, next to "Bairro de Casas para Pescadores da Fuseta", the historical fishermens village built in the 1930's
Situated directly on the waterfront with an exceptional sea view across the Ria Formosa Natural Park.
With its quiet Zen styled Mediterranean garden, its superb infinity pool and sunbathing deck overlooking the sea, Del Mar Village offers you unique accommodation.
The closed underground parking and private condominium status gives you a peaceful, tranquil holiday.
#The area
The location is absolutely unique.
You are in the quiest and most authentic part of the Algarve, however Faro airport is only 20 km, the A22 "Via do Infante" highway 15 minutes drive from Fuseta and the local train station 3 minutes walk.
You can't be closer from the Ria Formosa Natural Park, ranked one of the 7 natural wonders of Portugal. A telegraphic description would simply say: 18.400 ha, 60 km long, 1 cordon of 5 sand islands, 2 peninsulas, 6 piers, 200 species of birds, marshlands and a scent of seawater.
In the surroundings you will find other natural wonders (Sapal de Castro Marim, Fonte Benemola, Serra do Caldeirão) as well as historical towns (Faro, Tavira, Vila Real de Santo Antonio).
If you prefer to leave your car in the parking space, you can enjoy many outdoor activities such as cycling along the Ecovia, walking in the saltpans, seakayaking in the lagoon, kitesurfing or birdwatching. You also can be adept at sunbathing, choosing the calm lagoon beach which is children and disable friendly or the beautiful Atlantic beaches, easily reached by the regular small ferry boat from the river a few minutes walk away.
Located on the edge of Fuseta, you will greatly enjoy this friendly fishing village with traditional moorish flat roofed houses, a daily covered market, supermarkets, a great choice of restaurants, bars and small shops.
Owner's contact
Mail:
fuseta.flordesal@gmail.com
More Details
Capacity 4 person
Wheelchair friendly
Non-smoking
No animals
Long-term renting
Price
| | |
| --- | --- |
| 800€/week | January, February, March |
| 950€/week | April, May |
| 1100€/week | June |
| 1350€/week | July, August |
| 1100€/week | September,October |
| 800€/week | November, December |
10% third and fourth week
20% fifth and sixth week
Weekly prices including cleaning, linen, towels etc.
RNAL: 40049/AL
On arrival, you will be personally met and shown the apartment.
200 € security deposit by cheque/cash on arrival.
At time of booking, payment is 15% and the balance is due 2 weeks before arrival, in each case by bank transfer. A booking form and rental rules for DelMar will be sent to you by email in advance of your reservation. Cancellation: Your deposit is refundable entirely (except for any bank charges) if you cancel by email received up to 2 weeks before your holiday. There is no refund of any monies paid if cancelled after that time.
Address
Rua Nossa Senhora do Carmo, 87
8700 Fuseta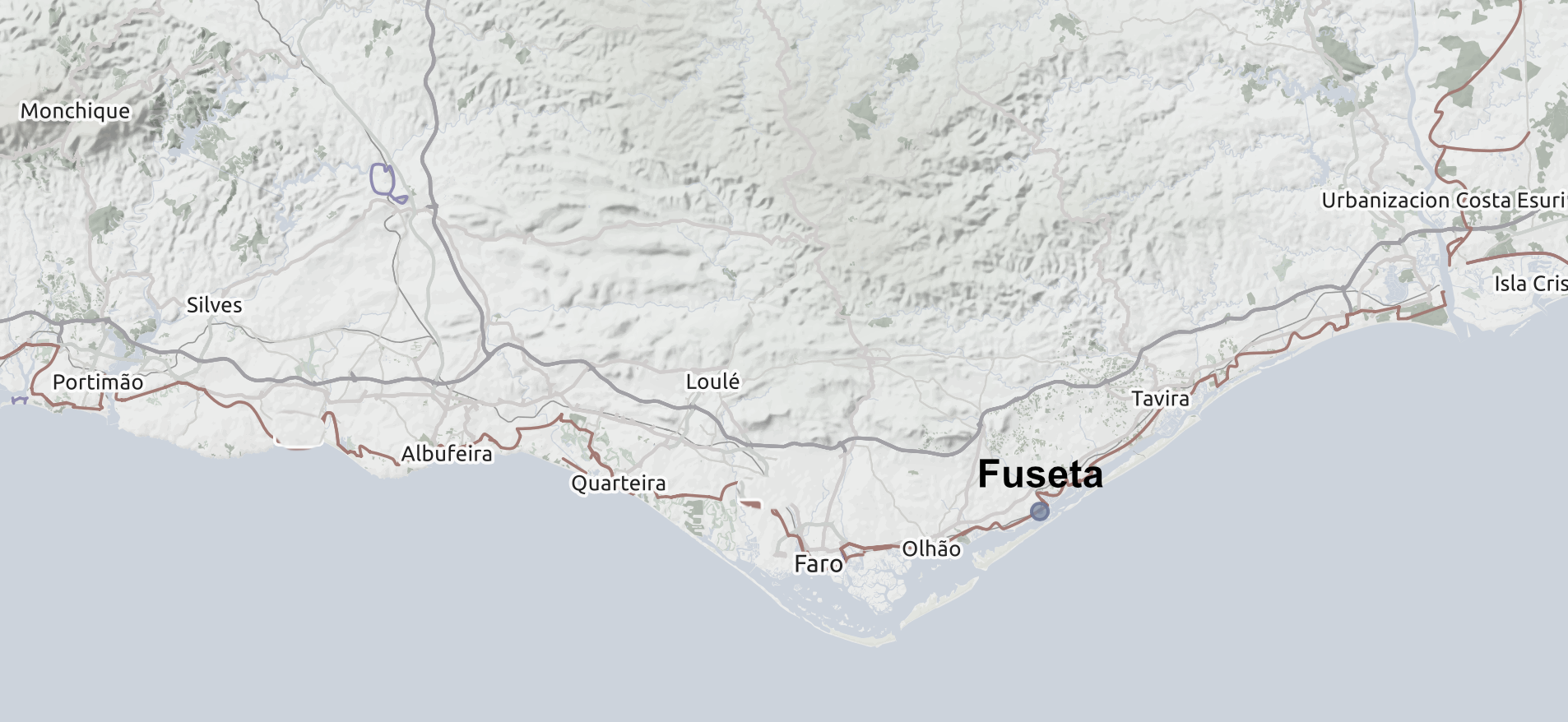 Availability
December

1

2

3

4

5

6

7

8

9

10

11

12

13

14

15

16

17

18

19

20

21

22

23

24

25

26

27

28

29

30

31
January

1

2

3

4

5

6

7

8

9

10

11

12

13

14

15

16

17

18

19

20

21

22

23

24

25

26

27

28

29

30

31
February

1

2

3

4

5

6

7

8

9

10

11

12

13

14

15

16

17

18

19

20

21

22

23

24

25

26

27

28

29
March

1

2

3

4

5

6

7

8

9

10

11

12

13

14

15

16

17

18

19

20

21

22

23

24

25

26

27

28

29

30

31
April

1

2

3

4

5

6

7

8

9

10

11

12

13

14

15

16

17

18

19

20

21

22

23

24

25

26

27

28

29

30
Mei

1

2

3

4

5

6

7

8

9

10

11

12

13

14

15

16

17

18

19

20

21

22

23

24

25

26

27

28

29

30

31
June

1

2

3

4

5

6

7

8

9

10

11

12

13

14

15

16

17

18

19

20

21

22

23

24

25

26

27

28

29

30
July

1

2

3

4

5

6

7

8

9

10

11

12

13

14

15

16

17

18

19

20

21

22

23

24

25

26

27

28

29

30

31
August

1

2

3

4

5

6

7

8

9

10

11

12

13

14

15

16

17

18

19

20

21

22

23

24

25

26

27

28

29

30

31
September

1

2

3

4

5

6

7

8

9

10

11

12

13

14

15

16

17

18

19

20

21

22

23

24

25

26

27

28

29

30
October

1

2

3

4

5

6

7

8

9

10

11

12

13

14

15

16

17

18

19

20

21

22

23

24

25

26

27

28

29

30

31
November

1

2

3

4

5

6

7

8

9

10

11

12

13

14

15

16

17

18

19

20

21

22

23

24

25

26

27

28

29

30
December

1

2

3

4

5

6

7

8

9

10

11

12

13

14

15

16

17

18

19

20

21

22

23

24

25

26

27

28

29

30

31
January

1

2

3

4

5

6

7

8

9

10

11

12

13

14

15

16

17

18

19

20

21

22

23

24

25

26

27

28

29

30

31
February

1

2

3

4

5

6

7

8

9

10

11

12

13

14

15

16

17

18

19

20

21

22

23

24

25

26

27

28
Last update : 2023-09-22