Waterfront - Delmar Marina, 2 Bedroom Apartment
Fabulous location, overlooking the marina in Olhão. Contemporary style and luxurious décor. Perfectly located to step out & enjoy the friendly vibe and bustling café culture of downtown Olhão.
Apartment
This brand new apartment has a large open plan living space with a fully equipped kitchen, ( Nespresso machine, cafetierre, microwave etc. etc. ) Cosy breakfast bar plus dining table. Outside terrace space with table and chairs for that essential morning coffee!
2 spacious bedrooms with plenty of fitted wardrobe space, large double beds, can be adapted to single beds as required. En suite bathrooms, fully tiled in white marble, with large walk in showers.
Plus Cloakroom, washing machine.
Situated on the 3rd floor – elevators directly in the entrance hall of the building, where you can also access your designated parking space below.
High speed internet, large screen TV with many international channels and capability to access your own Netflix account.
Delmar Marina
A recently finished high specification condominium. Contemporary Design in a prime location overlooking the waterfront, with rooftop swimming pools (Including one indoor heated pool) and lounging area, where you can enjoy the spectacular 360 degree views.
About Olhão – The capital of the Ria Formosa!
A fascinating and friendly town, perfectly located for water lovers and gourmet diners alike. A major fishing port, Olhão has the sea in its blood with generations of families living here, enjoying this fantastic area of natural beauty. Perfectly suited to tourism opportunities, yet still manages to blend perfectly the old and the new.
Wandering around the small narrow streets of the " Bairro dos Pescadores " you would be forgiven for thinking you have been transported on a magic carpet to the medinas of Morocco! You can get lost in the maize but around every corner you can find refreshment in any number of small café's and tascas.
The waterfront vibe is lively and colourful with restaurants and bars for every taste. For lovers of authentic food markets, its all right here! Saturday morning the whole town is out to shop and browse the fresh produce, socialize over coffees and fresh pastries or a beer or two!
Regular ferries and water taxis take you to the nearby Islands and superb beaches of the Ria Formosa. This is the only mode of transport for Island dwellers as there are no cars on the barrier Islands, so timetables operate year round. Alternatively take one of the many boat tours available and immerse yourself in this beautiful area, enjoy sailing alongside dolphins!
Enjoy the many experiences Olhão has to offer and make it a "must see destination ..."
Owner's contact
Mail:
jillhornby@hotmail.co.uk
Infos
Region:
PT - Portugal, Algarve, Olhão
Name:
Del Mar Marina CC
Scenery:
on front of Marina
Type:
Apartment
Privacy:
yes
Capacity:
4 persons
Wheelchair friendlyNo smoking and no pets.
Price
| | |
| --- | --- |
| 1500/week | July, August |
| 1200/week | June, September |
| 1050/week | Abril, May |
| 950/week | October |
| 900/week | November to March |
Price includes Welcome and cleaning. Bed linen, towels inc. pool / beach towels
RNAL: 125821/AL
Address
Del Mar Marina
Olhão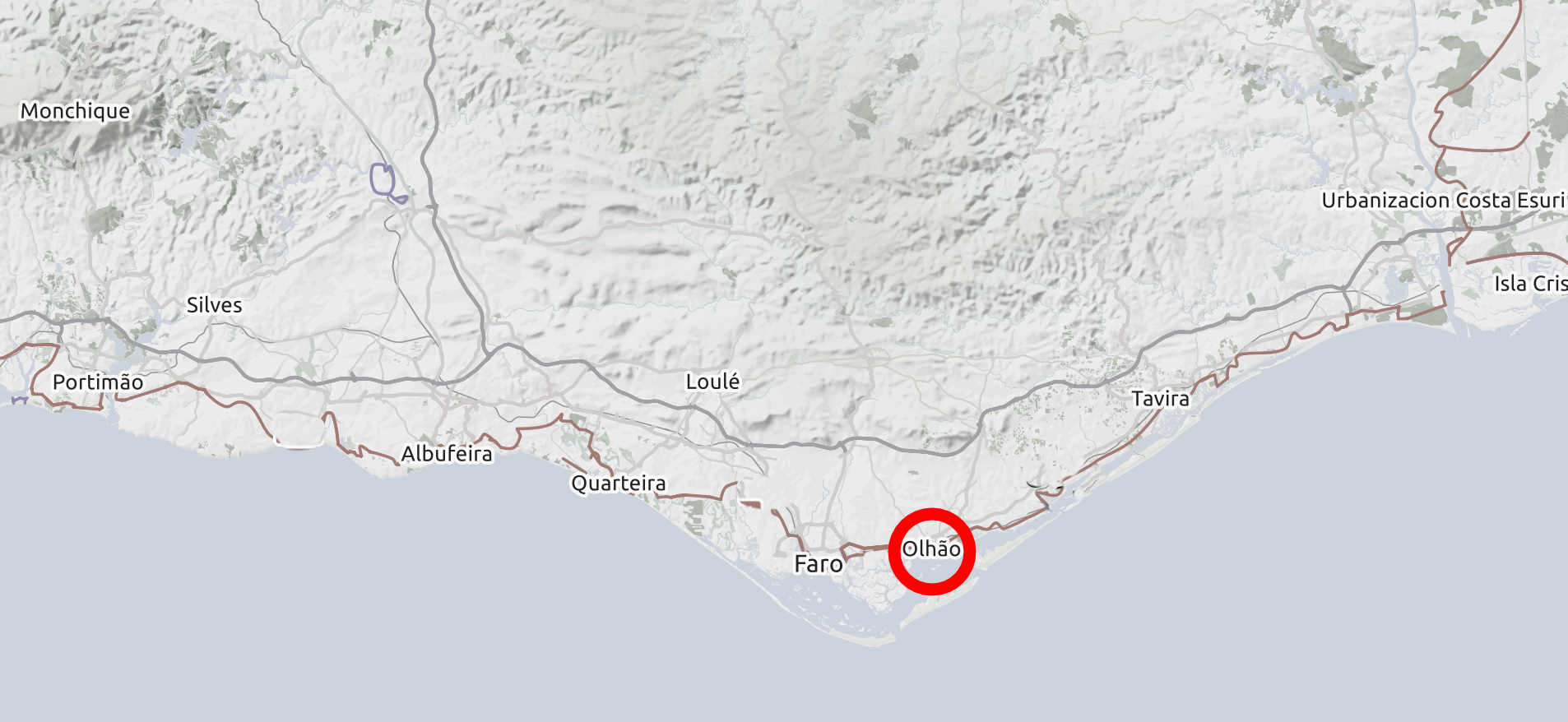 Availability
Mei

1

2

3

4

5

6

7

8

9

10

11

12

13

14

15

16

17

18

19

20

21

22

23

24

25

26

27

28

29

30

31
June

1

2

3

4

5

6

7

8

9

10

11

12

13

14

15

16

17

18

19

20

21

22

23

24

25

26

27

28

29

30
July

1

2

3

4

5

6

7

8

9

10

11

12

13

14

15

16

17

18

19

20

21

22

23

24

25

26

27

28

29

30

31
August

1

2

3

4

5

6

7

8

9

10

11

12

13

14

15

16

17

18

19

20

21

22

23

24

25

26

27

28

29

30

31
September

1

2

3

4

5

6

7

8

9

10

11

12

13

14

15

16

17

18

19

20

21

22

23

24

25

26

27

28

29

30
October

1

2

3

4

5

6

7

8

9

10

11

12

13

14

15

16

17

18

19

20

21

22

23

24

25

26

27

28

29

30

31
November

1

2

3

4

5

6

7

8

9

10

11

12

13

14

15

16

17

18

19

20

21

22

23

24

25

26

27

28

29

30
December

1

2

3

4

5

6

7

8

9

10

11

12

13

14

15

16

17

18

19

20

21

22

23

24

25

26

27

28

29

30

31
January

1

2

3

4

5

6

7

8

9

10

11

12

13

14

15

16

17

18

19

20

21

22

23

24

25

26

27

28

29

30

31
February

1

2

3

4

5

6

7

8

9

10

11

12

13

14

15

16

17

18

19

20

21

22

23

24

25

26

27

28

29
March

1

2

3

4

5

6

7

8

9

10

11

12

13

14

15

16

17

18

19

20

21

22

23

24

25

26

27

28

29

30

31
April

1

2

3

4

5

6

7

8

9

10

11

12

13

14

15

16

17

18

19

20

21

22

23

24

25

26

27

28

29

30
Mei

1

2

3

4

5

6

7

8

9

10

11

12

13

14

15

16

17

18

19

20

21

22

23

24

25

26

27

28

29

30

31
June

1

2

3

4

5

6

7

8

9

10

11

12

13

14

15

16

17

18

19

20

21

22

23

24

25

26

27

28

29

30
July

1

2

3

4

5

6

7

8

9

10

11

12

13

14

15

16

17

18

19

20

21

22

23

24

25

26

27

28

29

30

31
Last update : 2023-04-22